Benefits of Laser Skin Resurfacing
Laser skin resurfacing provides younger-looking, healthy skin by removing external layers of damage. Laser technology at Kam Facial Plastic Surgery offers the latest advancements in skincare to improve the skin's texture, improve problem areas, even tone, and reduce fine lines and wrinkles.
Laser skin resurfacing provides a range of advantages:
Improves rosacea ( broken blood vessels and redness)
Reduces the appearance of acne scars
Removes precancerous lesions
Smooths and flattens raised scars
Reduces scar discoloration
Removes surgical scars
Shrinks enlarged oil glands
Improves liver spots
Treats dark spots and freckles
Smooths fine lines and wrinkles
Stimulates the growth of new collagen
Decreases dark pigmentation
Improves skin tone and discoloration
Removes years of age from the face
Corrects Vascular lesions (cherry angiomas, port wine stains)
Removes red spots
patient results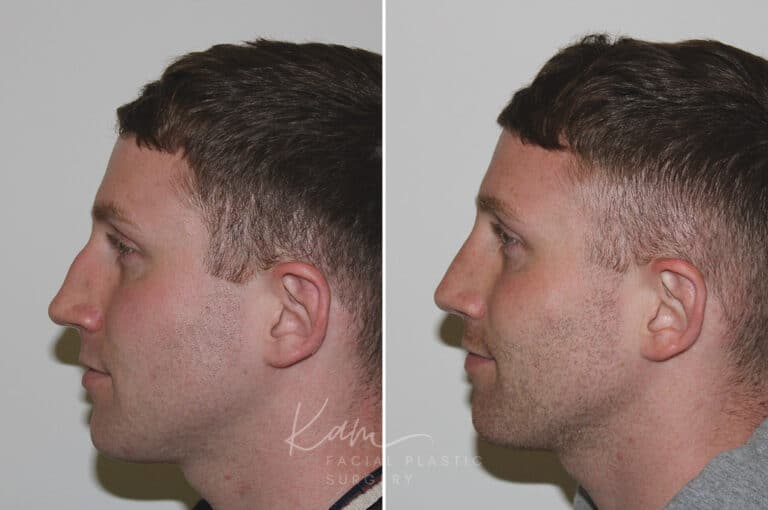 * All patients are unique and individual results may vary.
Sun damage, age, and genetics lead to the loss of elasticity, fine lines and wrinkles, hyperpigmentation, brown spots, and rough skin. Laser resurfacing sends bursts of concentrated light to remove unhealthy layers of skin for brighter, younger-looking skin. UPenn-trained Dr. Joanna Kam, MD, offers various treatments, including laser skin resurfacing, to eliminate problem skin conditions. She is double board-certified in plastic and reconstructive surgery and otolaryngology surgery.
What is Laser Skin Resurfacing?
Laser skin resurfacing at Kam Facial Plastic Surgery is a personalized treatment that removes the top skin layers of unhealthy tissue and tightens lower levels using carbon dioxide lasers. Dr. Kam works closely with each patient to identify concerns. She targets those problem areas using laser technology at precise depths to achieve the best results.
Three different laser technologies are used during one treatment to apply gentle heat and eliminate outer layers of skin damage.
Dr. Kam uses a combination of these three types of laser technology:
Pixel Laser
Pixel laser, also known as fractional ablative, creates thermal channels to encourage new collagen production, improve the skin's texture and tone, and smooth fine lines and wrinkles. The skin around the tiny thermal channels created by the pixel laser remains intact, allowing the top layer to heal rapidly.
Alma Laser
Alma laser technology heats the dermal and subcutaneous layers to stimulate collagen formation and tighten elastin fibers.
Intense Pulsed Light (IPL)
Intense pulsed light (IPL) or photo rejuvenation uses pulsed broadband light to gently eliminate skin imperfections, including sun-damaged skin, uneven skin tone, brown spots, vascular lesions, and red spots.
Laser Skin Resurfacing Consultation in Voorhees, NJ
Dr. Kam is a laser specialist and plastic surgeon specializing in laser technology for facial rejuvenation. Patients who are not ready for a facelift but want to refresh their skin by stimulating the production of collagen and regenerating the supportive structures in the face and neck may qualify as candidates for laser skin resurfacing at Kam Facial Plastic Surgery.
During the initial consultation, Dr. Kam examines the patient's skin and assesses trouble areas, such as acne scarring, rosacea, raised scars, broken capillaries, skin irregularities, fine lines, and wrinkles. She has extensive training in performing laser rejuvenation and carefully listens to assess any concerns before creating a personalized laser treatment plan according to skin type.
Dr. Kam may recommend laser skin resurfacing alone or in conjunction with another procedure to match your personal goals, such as rhinoplasty, brow lift, eyelid surgery, fat transfer, or scar revision.
Laser Skin Resurfacing Preparation
While the laser skin resurfacing treatment provides multiple benefits, some preparation is involved. During the consultation, Dr. Kam reviews the patient's medical history and discusses skin conditions and concerns, possible allergies, and current medications. Patients need to prepare in the days and weeks before the treatment to get their skin ready.
A series of treatments may be necessary before laser skin resurfacing.
Bleaching cream to offset possible skin darkening
Moisturizers with Retin-A to thin the superficial layer of skin and prepare the cells
Short treatment of antibiotics to reduce the risk of infection
Antiviral medication to reduce the risk of cold sores or a herpes infection
Pre-treatment instructions before laser skin resurfacing:
Avoid unprotected sun exposure for weeks before the procedure
Pause the use of anti-inflammatory drugs, aspirin, and medication that thin the blood
Discontinue topical skin care products unless approved by Dr. Kam
Prepare for recovery, including pain medication and food
Dress comfortably on the day of the procedure with a buttoned shirt
Arrange a ride to and from the procedure
Laser Skin Resurfacing Procedure in Voorhees, NJ
Dr. Kam uses skin resurfacing technology to address the appearance of wrinkles, sunspots, and skin conditions like scars or rosacea. Laser therapy may involve pixel, alma, or intense pulsed light (IPL). Dr. Kam controls the laser's depth, location, and size. In some cases, she may recommend more than one treatment session.
Anesthesia is used during the process to reduce pain and discomfort. Dr. Kam discusses the anesthesia during the consultation, which may involve topical numbing cream or supervised anesthesia.
Shallow to Deep
The laser skin treatment is adjusted to perform at various levels, from shallow to deep. The shallow level addresses surface fine facial wrinkles and as well as sunspots. Deeper levels improve skin tone and texture and address difficult areas like crow's feet and upper lip lines with light energy.
Full Field Laser Resurfacing and Fractional Laser Resurfacing
Dr. Kam may treat the entire face and neck or focus only on problems such as large pores, scars, acne, and rosacea.
Full-field Resurfacing: Addresses the whole surface.
Full-field resurfacing scans the entire surface of the skin and removes the top layer. The body naturally replaces the removed skin with fresh, healthy skin.
Fractional Resurfacing: Pinpoints problem areas, leaving the surrounding tissue intact.
Fractional resurfacing pinpoints key areas and remodels deep layers of the skin to improve scars and address pigmentation.
Dr. Kam creates a unique treatment plan for each patient based on their goals and concerns. She provides the patient with aftercare instructions, which are required to enjoy the full benefits of the treatment.
Laser Skin Resurfacing Recovery
aser skin resurfacing is a unique process for each patient, so each recovery is slightly different. Dr. Kam provides each patient with personalized instructions for skin care. Immediately after the treatment, the area is bandaged. After 24 hours, the patient must follow the surgeon's instructions to clean the treated area 4 to 5 times daily and apply the prescribed ointment.
Swelling is normal. In some cases, the doctor may prescribe steroids. After the treatment, the skin may look raw or blistered. The surface may ooze and develop a crust. It''s essential for patients not to pick at their skin to avoid the risk of scarring.
The skin will dry and peel in approximately one week. New, regenerated pink skin will appear. The new skin will gradually lighten over three months, but it may take up to one year for the pink skin to resolve. It''s vital to protect the skin during the natural healing process. Patients with blonde or red hair tend to experience longer-lasting redness.
After healing, use sunscreen formulated for sensitive skin every day without exception. Dr. Kam will recommend the correct type of sunscreen. Use a moisturizer daily as directed.
Tips for recovery:
Stop smoking, as cigarette smoke can complicate the healing process.
Sleep with an extra pillow to ease swelling.
Use ice packs during the day for the first two days to ease discomfort and swelling.
Avoid sun exposure.
Plan time off work to rest and recover.
After the area heals, green-based, oil-free makeup may camouflage pink skin.
The results can last years, providing long-lasting results to improve the appearance of the skin. Contact Kam Facial Plastic Surgery with any questions or concerns during the recovery.
Laser Skin Resurfacing Cost
Laser skin resurfacing is custom designed to match the patient's goals, and the price varies depending on the type of laser, the patient's skin concerns, and the size of the treatment area. During the consultation, Dr. Kam will explain the process, the expected skin resurfacing results, and the price.
Laser Skin resurfacing is a cosmetic procedure, and medical insurance rarely covers the cost. Kam Facial Plastic surgery offers affordable payment plans through Care Credit or My Medical Funding.
Common Laser Skin Resurfacing Questions