Benefits of Rhinoplasty
Rhinoplasty is a cosmetic and functional surgery that matches the patient's needs. Rhinoplasty repairs and improves the symptoms caused by nasal obstructions from a septal deviation, turbinate hypertrophy, nasal valve collapse, or other injuries caused by trauma. Overall cosmetic improvements can provide a better balance to the rest of the face.
Dr. Kam customizes each rhinoplasty procedure to provide natural-looking results that match her patient's goals. Cosmetic improvements provided by rhinoplasty include adjustments to the nasal bridge, nasal tip, and nostrils. Patients request rhinoplasty to improve the following functional and aesthetic concerns:
Breathing problems caused by irregularities in the internal structure of the nose
An overly large nose
Drooping nasal tip
Protruding nasal tip
Bulbous nasal tip
Extremely small or pinched nose
Humped nasal bridge
Crooked nose
Previously broken nose
patient results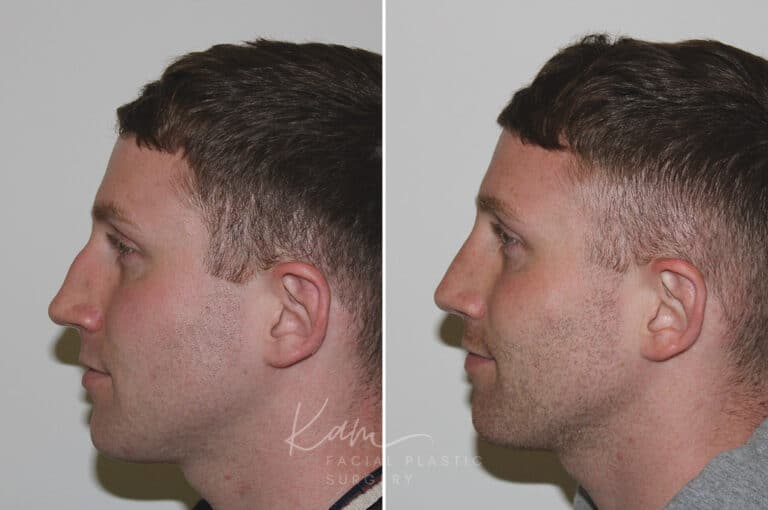 * All patients are unique and individual results may vary.
What is Rhinoplasty?
The facial appearance is directly affected by the shape and size of the nose. The delicate facial balance is disturbed when a nose is predominantly large or out of proportion compared to the other facial features. A damaged nose can also lead to snoring, sleep disturbances, and chronic sinusitis. Even minor abnormalities in the nose can lead to significant issues with patient self-esteem.
Among plastic surgery procedures, a nose job is commonly sought after. Rhinoplasty, also known as a nose job, is a surgical procedure performed for cosmetic or medical reasons. It is used to correct congenital disabilities, repair injuries, and improve a patient's overall appearance.
Rhinoplasty is a cosmetic and functional solution. Dr. Kam may recommend functional rhinoplasty for patients with chronic sinusitis or a deviated septum. Nose surgery may be performed with endoscopic sinus surgery or septoplasty to treat breathing and medical issues.
Rhinoplasty Consultation in Voorhees, NJ
Dr. Kam solely focuses on facial plastic surgery. She holds certifications in both facial plastic surgery and Otolaryngology, which encompasses surgery of the ear, nose, and throat.
During the rhinoplasty consultation, she examines the patient, listens carefully to their goals and desires, and creates a surgical plan that addresses their specific issues.
Dr. Kam strives to provide natural-looking results without telltale signs of an overly done nasal surgery. Rather than using a cookie-cutter approach, she listens carefully to the patient and matches the final results with their desires.
Rhinoplasty Preparation
Dr. Kam provides patients with rhinoplasty preparation instructions during the consultation. Following the preparation and aftercare instructions will encourage healing and reduce the chance of complications such as potentially visible scars. The following instructions are beneficial for rhinoplasty preparation:
Stop or pause vitamins and supplements that increase the risk of bleeding, including aspirin, Motrin, Coumadin® or blood thinning medication, and NSAIDs like Aleve.
Remove makeup and jewelry.
Wash hair but avoid hairstyling products
Take usual medications unless the doctor specifies otherwise.
Wear a button-down shirt
Prepare your home with good food and plan a relaxing downtime.
Arrange to have a friend or family member bring you to and from surgery.
Rhinoplasty Procedure
Dr. Kam creates a customized rhinoplasty surgical plan for each patient. Rhinoplasty is typically performed as an outpatient procedure using IV sedation or general anesthesia. The procedure typically takes 1 to 2 hours.
The surgeon may perform an open or closed rhinoplasty technique depending on the patient's needs. A close rhinoplasty procedure involves incisions that are made within the nostrils, and an open rhinoplasty involves an incision made across the tissue between the nostrils in the columella. When a patient has a deviation septum, Dr. Kam adjusts the septum and or nasal structures to improve breathing.
The rhinoplasty surgeon gently lifts the tissues covering the nose, sculpts the bone, and reshapes the cartilage. She may add cartilage when augmentation is needed. If additional tissue is needed, she may use it from the nasal septum. It may also be surgically removed from the ear or another body area. When necessary, Dr. Kam adjusts the nostrils during the final stage.
Rhinoplasty Recovery
Rhinoplasty is a same-day surgery, and the patient returns home with a splint and nasal packing in the nose. Most patients have some initial nasal pain, a dull headache, bleeding, and drainage. The patient's nose and eyes are typically bruised and swollen during the healing process.
The patient returns to Dr. Kam for a follow-up appointment to remove the nasal packing. The external sutures used in an open rhinoplasty are removed one week after surgery. Internal sutures are dissolvable and do not require removal. Antibiotic ointment is used during the first 7 to 10 days to keep the incisions moist and encourage healing.
Most patients feel like themselves within a few days and return to most daily activities in about a week. Minimal swelling will remain for about a year, but the patient will see and feel significant improvements and enjoy the results in a few weeks. Patients are encouraged to call the office at any time if they have concerns during their recovery. Dr. Kam will provide a range of tips for managing swelling after rhinoplasty as well as other conditions.
Rhinoplasty Cost
In New Jersey, the cost of rhinoplasty can typically range between $3,000 and $15,000. This variation depends on several factors, including the surgeon's expertise, the complexity of the procedure, and additional costs such as anesthesia, operating room facilities, and other related expenses.
It's important to note that rhinoplasty is often considered a cosmetic procedure and is therefore not usually covered by health insurance. Coverage may be possible if the surgery is medically necessary, such as for reconstructive purposes or to correct functional issues. Patients should discuss the specifics of costs and potential insurance coverage with their chosen healthcare provider.
Dr. Kam creates a customized surgical plan during the rhinoplasty consultation and explains the price. Payment options are also available through Care Credit or My Medical Funding.
Common Questions About Rhinoplasty