Otoplasty Benefits
Dr. Kam customizes otoplasty in Voorhees, NJ, to address your specific concerns regarding your ears. Otoplasty or ear pinning provides a wide range of benefits, including:
Safely corrects abnormally shaped ears
Reduces the size of overly-large ears
Flatten or reposition the ears closer to the head
Improve symmetry of the ears
Reduce the size of a stretch earlobe due to large earrings or gauges
Repair a ripped or torn earlobe
Provides permanent results
May alleviate social anxiety caused by irregularly shaped or large ears
patient results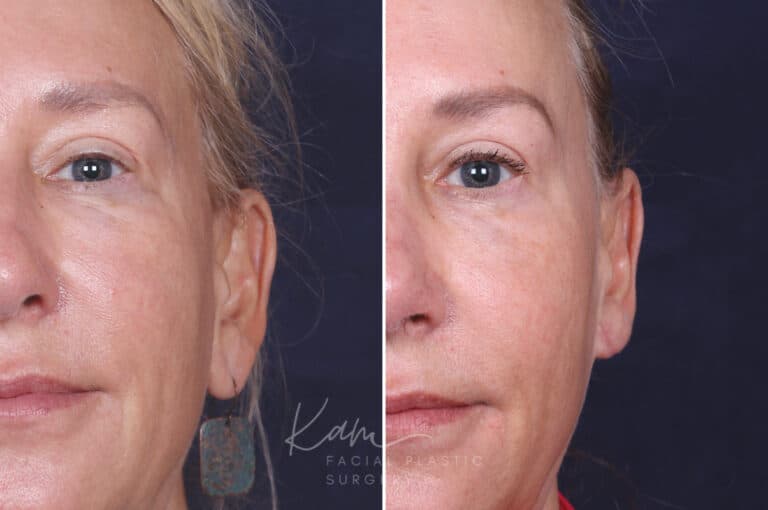 * All patients are unique and individual results may vary.
Protruding, large, or misshapen ears can cause us to feel self-conscious. There is a permanent solution. Ear reshaping surgery, or otoplasty, can adjust the size, shape, and position of the ears.
What is Otoplasty?
Otoplasty is a surgery that reshapes the ears. It is a highly customized procedure that utilizes a variety of techniques to shape the cartilage framework of the ear. Otoplasty is also known as ear pinning, ear reduction, or earlobe repair.
Otoplasty is usually performed as an elective surgery to improve protruding ears. Large ears distract from the other facial features, and adjustments to the ears can improve the patient's overall appearance. Otoplasty can also be performed to reconstruct the outer ear when it is deformed or misshapen due to a birth abnormality or injury.
Other times, it is performed to repair a ripped, stretched, or pulled earlobe after distortion by gauges or heavy earrings. Dr. Kam customizes otoplasty in Voorhees, NJ, to improve symmetry and help restore self confidence.
Otoplasty Consultation in Voorhees, NJ
During the otoplasty consultation, Dr. Kam examines the patient's ears and listens to their concerns. Dr. Kam creates a unique surgical plan to address the patient's goals, and explains the surgical procedure in detail.
Dr. Kam shares before and after photos and explains the risks, expected results, self care, and recovery process. Her ultimate goal is to help each patient achieve natural-looking results that match their goals.
Ear Surgery Preparation
Dr. Kam provides each patient with presurgical and postsurgical instructions during the ear surgery consultation. Smokers must stop smoking about 1 month before surgery because smoking hinders healing.
Share a list of current medications with Dr. Kam and follow her instructions on continuing or pausing medications. Avoid aspirin and non-steroidal anti-inflammatory drugs like Motrin and Advil, because they increase the risk of bruising. Ask Dr. Kam about any herbal supplements you take, as some supplements may increase the risk of bleeding.
Avoid wearing perfume, lotion and makeup on the day of surgery. Wear comfortable clothing. You may want to ask a friend for transportation to and from the surgery.
Otoplasty Procedure
The cosmetic procedure is typically performed using local anesthesia and takes approximately 30-45 minutes per ear. Dr. Kam uses incisions behind the ear or within the inner creases to remove, score, or fold cartilage to improve the position, shape, or size of the ear.
In some cases, the ear can be pinned back without removing cartilage. The procedure on each ear is unique and may include the removal of differing amounts of cartilage to create symmetry.
Dr. Kam customizes the otoplasty to match the patient's goals. Some options include:
Augmentation: increases the size of underdeveloped ears
Pinning: draws the ears towards the head
Reduction: reduces the size of large ears or large ear lobes
Reconstruction: restores or rebuilds the external ear to repair a birth issue or damaged tissue
Otoplasty Recovery
After the procedure, bandages are applied over the ears to support and protect the area. Dr. Kam will provide instructions on when to remove the coverings. Some discomfort, redness, and swelling are likely after surgery.
Dr. Kam will provide aftercare instructions for a successful otoplasty recovery, prescribe antibiotics to prevent infection and review pain medication. After removing the bandages, wear a headband at night to protect the ears and avoid irritation.
Patients should sleep on their backs. Although the incisions and surgery are minimal, the ears take time to heal. Most patients enjoy their total results and healing in about six weeks. Most patients return to school or work within one week and gradually resume their regular activities.
Otoplasty Cost
Each otoplasty is unique and the price varies based on the operation. Dr. Kam discusses the surgery, the anticipated results, and the cost during the consultation.
Medical insurance does not cover cosmetic otoplasty, but it may cover reconstructive ear surgery when performed to improve a defect or injury. Kam Facial Plastic surgery offers payment options through Care Credit, which has a separate online application.
Common Otoplasty Questions
Who is an ideal candidate for otoplasty or ear pinning in Voorhees, NJ?
Dr. Kam assesses potential candidates during the otoplasty consultation. She reviews their medical history and examines the ears' size, placement, and shape. She asks about patients' goals and uses her expertise to determine whether these goals are realistic. Every ear is different. Good candidates for surgery are in good health, do not smoke, and have realistic surgical expectations.
What are the risks associated with otoplasty ear surgery?
There are risks associated with every surgery, but otoplasty is a safe procedure. Surgical risks related to ear surgery are also greatly reduced when performed by an experienced facial plastic surgeon like Dr. Kam. Although rare, otoplasty risks may include a reaction to the anesthesia, infection, reduced sensation, asymmetry, scar, or complications related to the sutures.
Are their visible scars after your surgery?
Scarring can vary from one patient to another. Dr. Kam discreetly replaces the incisions in the crease behind the ear or within the natural folds of the ear to minimize noticeable scarring. Usually the scar is not noticeable once the ear has healed. Carefully following the doctor's instructions will reduce the risk of complications, such as infection, which can lead to scarring.
Are otoplasty results permanent?
Otoplasty (ear pinning) results are considered permanent. The removed cartilage will not grow back. However, if the tip of the ear is held back with permanent sutures and trauma causes the sutures to break before the ear has healed, the otoplasty must be repaired. Once healed, the results are considered permanent.
What causes protruding ears and how are they repaired?
Protruding ears typically develop this way in the womb. The ears can appear cupped or furled, but there are several variations.

During the consultation, Dr. Kam carefully assesses the ears and creates a treatment plan that considers the differences between each ear. She takes specific measurements and documents the patient's desired outcome and realistic goals before designing a customized ear-pinning and reshaping plan.

Dr. Kam creates an incision behind the ear and removes excess cartilage. She may make additional incisions inside the creases of the outer ear to reshape the ear before pinning it into place with sutures.
Is otoplasty covered by health insurance?
Most otoplasty surgery is typically performed to improve the appearance of the ears. Medical insurance does not cover the cost of elective, cosmetic procedures like ear pinning. However, medical insurance may cover ear reshaping due to a congenital disability or injury. Kam Facial Plastic surgery offers payment via Care Credit if your ear surgery is cosmetic and not covered by insurance.